BLS and ACLS Surveys
The BLS Survey
While it is not explicitly written into the ACLS algorithms, the BLS survey is the starting point for all ACLS management.
The BLS Survey includes four steps:
Check for a response

– Shout "Are you okay?!" Do not be afraid to yell. This is the first assessment in BLS and ACLS: Does the patient need help emergently? If they do not respond, they need help immediately. If they do respond, they still may need medical attention.

Call for help

– Yell for help, telling others to call 911 and to bring an AED. Be authoritative and do not panic. It is always best to have help. It is rare for only one responder to be available during BLS. If you are truly alone, you may consider leaving the patient briefly so that you can get help.

Check circulation

– In adults, the best place to check for a pulse is the carotid artery. In children, the brachial or femoral arteries are first choices. Do not check for a pulse for more than 10 seconds. If you have not felt a pulse within 10 seconds, assume that the patient has no pulse.

Check rhythm

– This step requires an AED. If you do not have access to an AED, then you can move on to CPR for a pulseless patient. Follow all prompts from the AED. If the cardiac rhythm is shockable, then clear everyone from the patient and deliver a shock. If the cardiac rhythm is not shockable, continue high-quality CPR.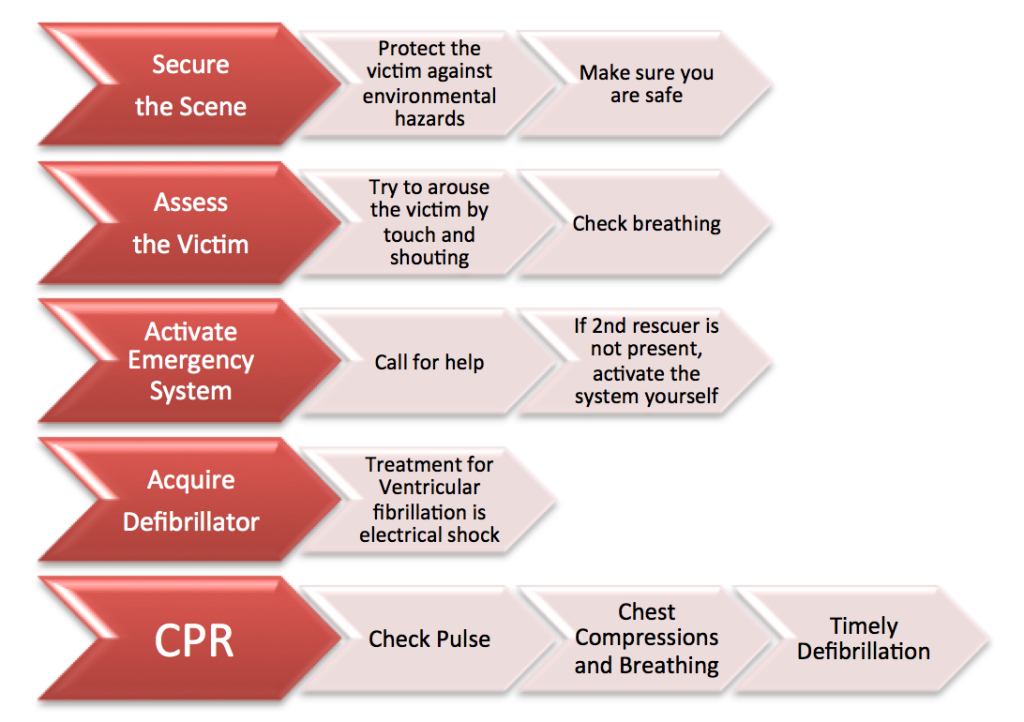 The ACLS Survey
When the BLS survey is complete or if the patient is conscious and responsive, the responder should conduct the ACLS survey with a focus on identifying and treating the underlying cause(s) of the patient's problem.
The ACLS Survey follows A, B, C, and D: Airway, Breathing, Circulation, and Differential Diagnosis.
Assess Airway

– Use the least advanced airway possible to maintain the airway and oxygenation (laryngeal mask, laryngeal tube, or esophageal tracheal tube).

Assess Breathing

– Monitor tube placement and oxygenation using waveform capnography if available; avoid excessive ventilation.

Assess Circulation

– Medications, CPR, fluids and defibrillation when needed according to the ACLS cases.

Determine Differential Diagnosis

– Use an AED or defibrillator to identify the arrhythmia or symptoms and treat reversible causes.