True or False
You are caring for a 32 year old man who was moved to the telemetry service because of overflow on the regular unmonitored hospital floor. The patient has no cardiac symptoms, but, per hospital policy, the patient is placed on a telemetry monitor.
You observe the following rhythm strip:

True or False?
You can make a note in the chart that this is a normal sinus rhythm ECG tracing (and a note to yourself about this stupid hospital policy).
Answer
False. The ECG strip shows classic delta waves, indicative of a Wolff-Parkinson-White pattern. Wolff-Parkinson-White syndrome is a reentry tachycardia in which an accessory electrical pathway exists in the heart the changes the normal conduction pattern. The delta wave, which appears at the beginning of the QRS complex and usually looks like a "hump," or triangle, reflects current traveling just a little bit faster through the heart (through the accessory pathway).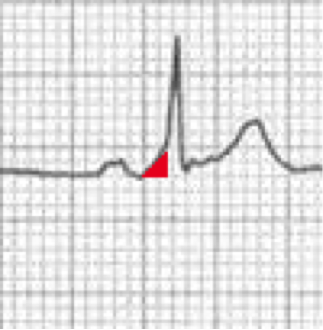 There is a difference between WPW pattern and WPW syndrome. WPW pattern reflects the characteristic ECG pattern without arrhythmia or symptoms. Asymptomatic person with this ECG pattern is said to have WPW syndrome. We do not know enough about the patient and the question to know if he has the syndrome, but he does have the WPW pattern and therefore the tracing cannot be listed as normal.
Online ACLS Training and Certification
ACLS Medical Training is the world's leading 100% online ACLS, BLS, and PALS provider to offer AMA PRA Category 1 Credits™.