ACLS Post Cardiac Arrest Care Algorithm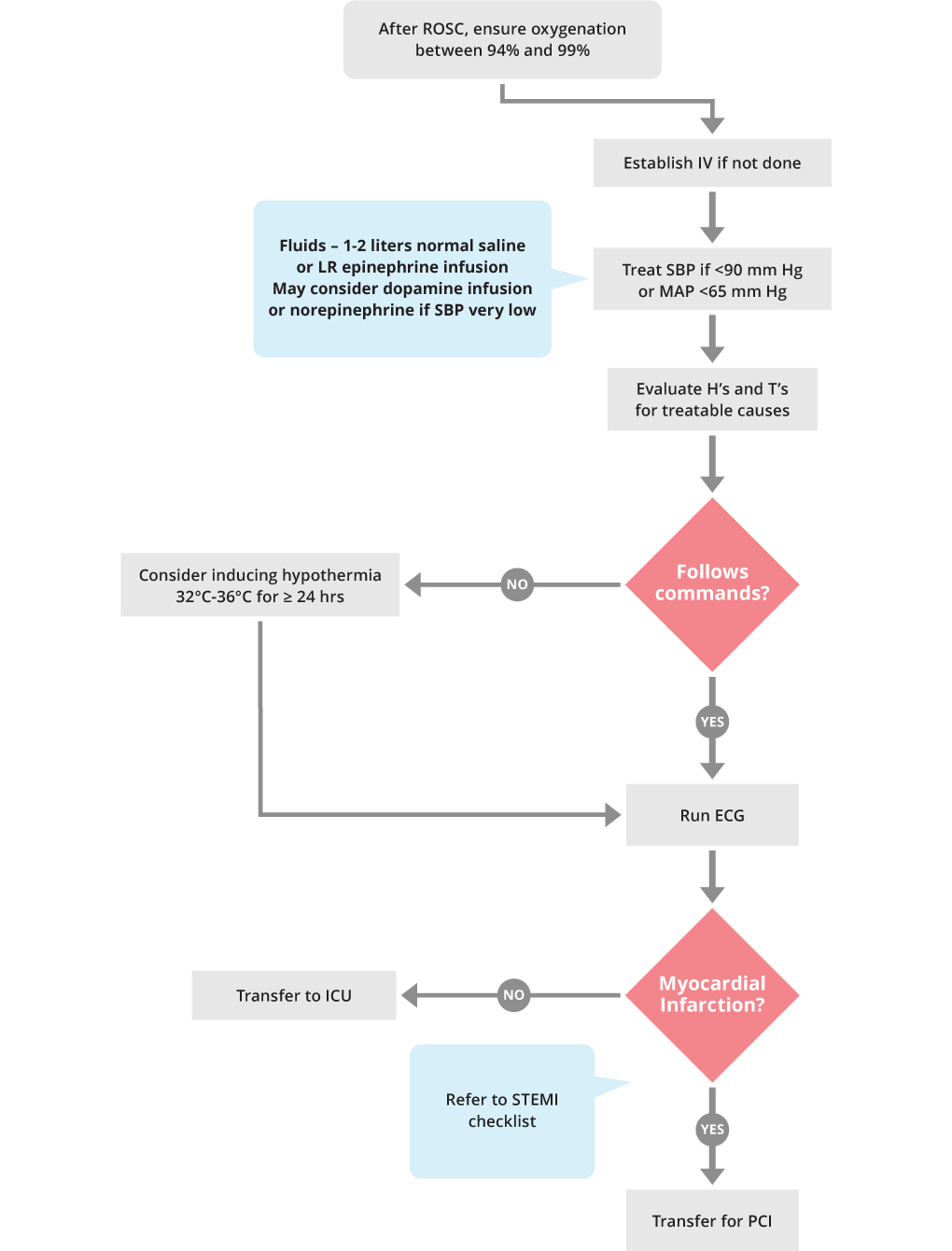 Treatment for a victim of cardiac arrest must continue post resuscitation in order to optimize the outcomes. The post cardiac arrest care algorithm includes the following steps:
Verify ROSC.
Manage the airway and provide a breath every 5-6 seconds. Using quantitative waveform capnography, titrate the oxygen to maintain a PETCO2 of 35-40 mm Hg.  If you do not have access to a waveform capnography machine, titrate oxygen to keep the victim's oxygen saturation >94%.
Insert and maintain an IV for medication administration.  Maintain the blood pressure above 90 mm Hg.  For a low blood pressure, consider one or more of these treatments:

Give 1 to 2 liters of saline or Ringer's lactate IV fluid.
Start an epinephrine IV infusion to keep the systolic pressure > 90 mmHg.
Start a  dopamine  IV infusion
Consider norepinephrine for extremely low systolic blood pressure.

Evaluate the H's and T's for treatable causes (see H's and T's)
Track the victim's mental status.  For decreased level of consciousness after resuscitation, consider inducing hypothermia.
Obtain a 12-lead ECG to determine if the victim has suffered an ST segment elevation myocardial infarction (STEMI) or non-STEMI myocardial infarction.
If myocardial infarction is suspected, consider percutaneous coronary intervention (PCI) to open the coronary arteries.
When myocardial infarction is not suspected, or after PCI, transfer the victim to a Coronary Care Unit for advanced critical care.