BLS Provider Manual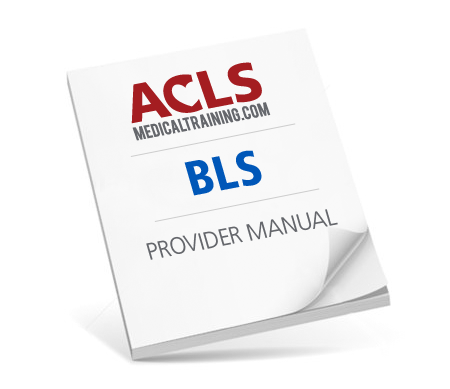 At ACLS Medical Training, we strive to have the highest quality online BLS certification and recertification content. That is why our BLS Study Guide is free to all registrants. We trust that once you see our BLS Study Guide, you will come back to ACLS Medical Training purchase the BLS course. Just supply your email address in the form above and we will email a copy of our BLS Study Guide to you right away. We encourage you to look over the study guide as well as the rest of the BLS study materials on our site. Once you see our BLS content, you will know why ACLS Medical Training is the fastest growing ACLS, PALS, and BLS certification site on the Web.
How to Use Our BLS Study Materials

The Experienced Provider
You may already be an experienced BLS Provider and are simply seeking re-certification. If so, we suggest that you start by reviewing the AHA's changes to the BLS manual made in the 2010 edition. You may want to go straight to the 40-question BLS recertification examination. There is no limit to the number of retakes provided in the course, so if you do not pass the first time, you can retake the exam until you pass.
The First Time Student
If you are a first time student of BLS, we strongly recommend that you review the BLS Study Guide carefully. Since any part of the study guide may be on the exam, you should feel confident with the material before you attempt the BLS certification examination.
A Provider with a Lapsed Certification
If it has been more than two years since you had BLS certification, the best place to start is with the 2010 edition changes to the BLS Provider Manual. You might be surprised at some of the changes (e.g., It is now C-A-B, not A-B-C!). Then you may go through the rest of the BLS Study Guide to refresh your memory and look for areas that you may not remember from you previous BLS training. Once you have re-learned the material, take the 40-question BLS recertification examination. If you score an 80% or better on the exam, you are once again BLS certified!
The BLS Study Guide Table of Contents
General Concepts of Basic Life Support

Initiating the Chain of Survival
2015 BLS Guidelines Changes

BLS for Adults

One-Rescuer Adult BLS
One-Rescuer CPR
Two-Rescuer Adult BLS/CPR
Adult Mouth-to-Mask Ventilation
Compression-Only CPR
Adult Bag-Mask Ventilation in Two-Rescuer CPR

BLS for Children (Age 1 to Puberty)

One-Rescuer BLS for Children
Two-Rescuer BLS for Children
Child Ventilation

BLS for Infants (0 to 12 months old)
Critical Concepts in BLS

Rescue Breathing
CPR with an Advanced Airway
Ventilation
Infant Mouth-to-Mouth or Mouth-to-Nose
Adult and Older Children Mouth-to-Mouth
Automated External Defibrillator Use

Relief of Choking

Choking in an Adult or Child Older than One Year
Abdominal Thrusts (Heimlich Maneuver)
Choking in Infants (Less than one year old)

Respiratory Arrest By Opioids – Bystander Use of Naloxone 24