PALS Provider Manual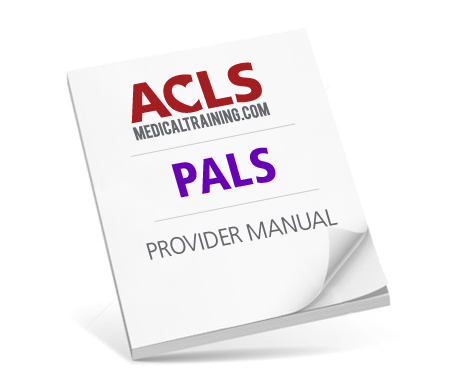 At ACLS Medical Training, we are sure that we have the highest quality online PALS certification and recertification content, which is why we provide our PALS Study Guide free of charge. We believe that once you see how accurate and comprehensive our PALS Study Guide is, you will purchase the course. Want to take a look? Fill out the form and we will send a copy of our ACLS Study Guide to your email account. Review the study guide and training materials on our site. You will understand why ACLS Medical Training is the fastest growing ACLS, PALS, and BLS certification site on the Web.
How to Use Our PALS Study Materials
The Experienced Provider
If you are already a PALS Provider and are confident in your knowledge and skills, briefly familiarize yourself with the topics and content in the PALS Study Guide. Once you are ready, take the 40-question PALS recertification examination. ACLS Medical Training provides unlimited re-takes so you do not pass the first time, you can always try again.
The First Time Student
If this is your first time seeking a PALS certification, we recommend going through the PALS Study Guide very carefully. The topics and content may be new for you. Since any part of it will be on the exam, you will need to know your stuff. You should be very comfortable with the PALS algorithms before you attempt the certification exam. The PALS practice test is a good way to check your knowledge level before you take the 50-question PALS certification examination.
A Provider with a Lapsed Certification
If it has been more than two years since you had PALS certification, you will want to determine which areas you may have forgotten since your last certification. For most people, this will be the medication doses or the algorithms. We have that content in our Learning Center and in the PALS Study Guide. Once you have refreshed your memory, you may be ready to take the PALS recertification examination. If you pass on the first attempt—Congratulations!—you are PALS certified. If you don't pass, review the PALS study materials again. There you can firm up any areas of weakness and retake the test when you are ready.
The PALS Study Guide Table of Contents
General Concepts

PALS Preparation
Organization of the PALS Course
2015 pals guideline changes
Changes to Pediatric BLS in 2015
Pediatric Chain of Survival

Pediatric Evaluation

Evaluate-Identify-Intervene

Evaluate the Child
Identify
Intervene

The Team in PALS
Recognition of Respiratory Distress/Failure

Hypoxemia
Hypercarbia
Signs of Respiratory Problems

Management of Pediatric Respiratory Distress or Failure

Upper Airway Obstruction Management
Lower Airway Obstruction Management
Lung Tissue Disease Management
Disordered Control of Breathing Management
Equipment for Respiratory Management
Pediatric Length Based Resuscitation Tape

Recognition of Pediatric Shock

Pathophysiology in Shock
Compensatory Mechanisms in Shock
Signs of Shock by Type

Management of Pediatric Shock

Initial Management
Management of Shock by Type
Shock: Fluid and Medications
Intraosseus Access

Recognition and Management of Pediatric Bradycardia

Signs and Symptoms of Bradycardia
Underlying Causes of Bradycardia
Bradycardia with a Pulse and Poor Perfusion Sequence

Recognition and Management of Pediatric Tachycardia

Signs and Symptoms of Tachycardia
Initial Management of Tachycardia and Emergency Interventions
Tachycardia with Adequate Perfusion Sequence
Tachycardia with Poor Perfusion Sequence

Recognition and Management of Pediatric Cardiac Arrest

Cardiac Arrest Rhythms
BLS Components for Management of Cardiac Arrest
Advanced Life Support (ALS) in Cardiac Arrest
Pediatric Cardiac Arrest Sequence
Manual Defibrillation for VF or Pulseless VT
Special Circumstances

Pediatric Post-Resuscitation Support

DOPE
Maintenance Fluids
Management of Shock Following Successful Resuscitation
Patient Transport

Medications Used in PALS
Rhythm Recognition

Sinus Rhythm
Sinus Bradycardia
Sinus Tachycardia
Sinus Rhythm with 1st Degree Heart Block
2nd Degree AV Heart Block
3rd Degree Heart Block
Supraventricular Tachycardia (SVT)
Atrial Fibrillation
Atrial Flutter
Ventricular Tachycardia (VT)
Ventricular Fibrillation (VF)
Asystole