This is a case from the "old days" when prehospital 12-lead ECGs were still a bit of a novelty. Many of the details have been lost to time but patient's heart rhythms will be the focus of this review.
The patient was a young woman in her late 40s who presented with syncope while playing tennis. Syncope during exercise is troubling and suggests a possible cardiac cause, which is potentially life threatening.
EMS arrived on scene and obtained a detailed history. The woman admitted to some chest discomfort. Vital signs were assessed and the cardiac monitor was attached.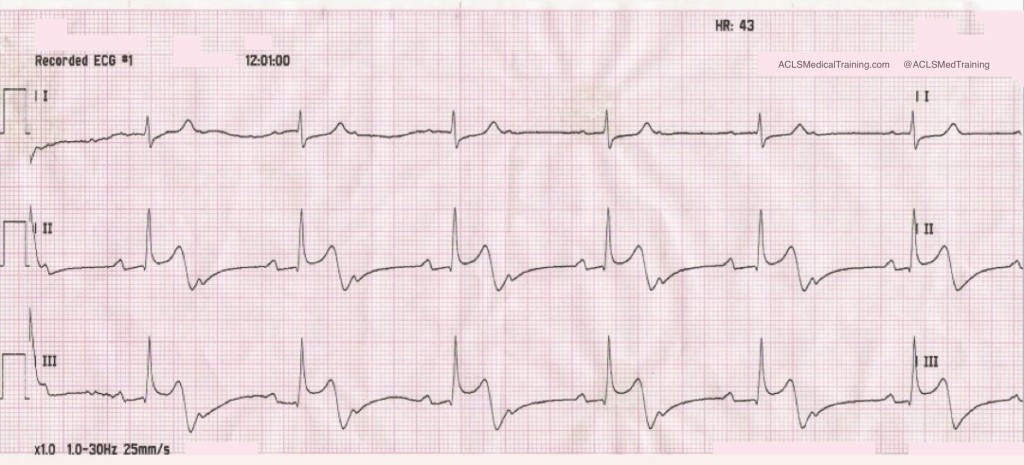 The initial ECG showed second degree AV block with 2:1 conduction.
This is often called second degree AV block type 2 with 2:1 conduction but second degree AV block with 2:1 conduction is untypeable.
There appears to be an acute injury pattern even though the rhythm strip is recorded in 'monitor' mode with the low frequency / high pass filter set to 1.0 Hz.
A few minutes later a rhythm change was noted on the monitor.

Now the rhythm is third degree AV block with junctional escape rhythm. The atrial rate is about 60 and the ventricular rate is 41.
(The initial 12-lead ECG showed poor data quality but paramedics understood that the patient was suffering acute STEMI.)
Aspirin was given and an IV was started. Nitroglycerin was also given and the patient became hypotensive.
Remember, this case is over 10 years old. At that time there was a lot less emphasis on things like right ventricular infarction and the cardiac cath lab was not activated based on the prehospital 12-lead ECG.
0.5 mg atropine was given rapid IVP and another 12-lead ECG was obtained.

The atrial rate has doubled to about 125. The ventricular rate has increased modestly to about 47. The ECG is diagnostic for acute inferior-posterior STEMI.
On arrival in the Emergency Department the staff obtained their own 12-lead ECG.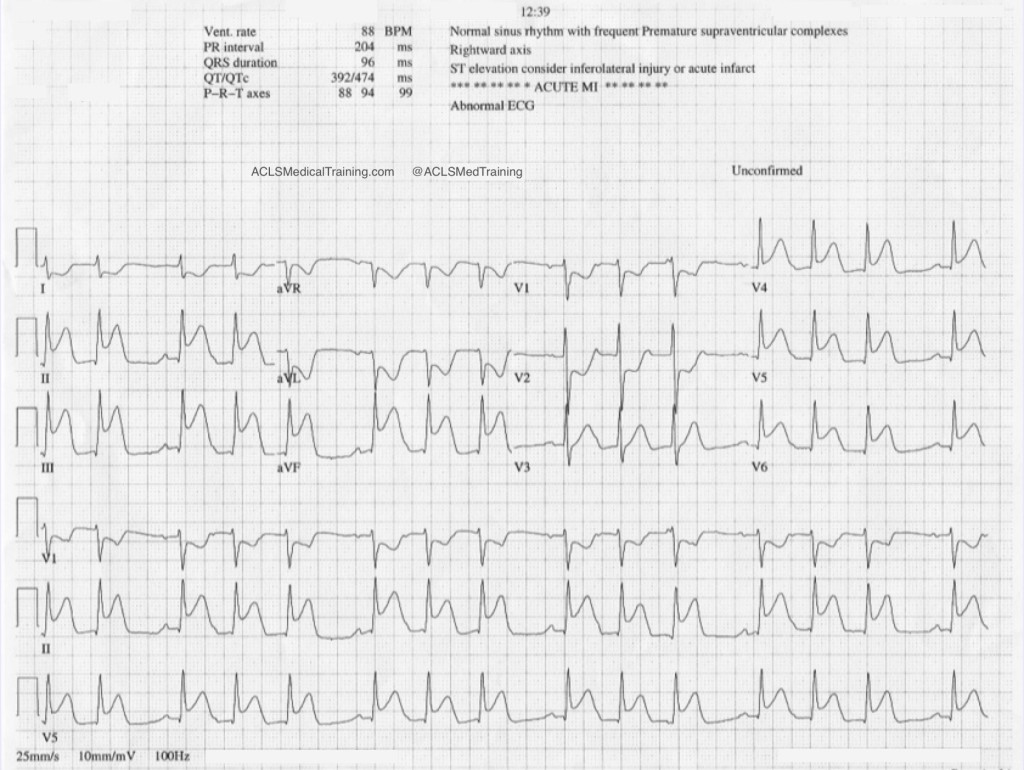 Now the heart rhythm is second degree AV block type 1 (Wenckebach).
How can you tell? In the first place we see clustering of QRS complexes (huge tip-off) and we already know that AV conduction is precarious. The initial cardiac cycle of each cluster shows a constant PR-interval.

When we take a closer look at the rhythm strip we see progressive prolongation of the PR-interval until a P-wave is "dropped" proving that the heart rhythm is second degree AV block type 1 (Wenckebach).
The ECG shows worsening of the ST-segment elevation. The patient was sent to the cardiac cath lab. As far as I know she made a full recovery.
Discussion
Heart blocks in the setting of acute STEMI can result either from ischemia of the AV node or increased parasympathetic tone, which is a manifestation of the Bezold-Jarisch reflex.
Consider these excerpts from Braunwald's Heart Disease (Fifth Edition). It's an old book but it contains some interesting information.
"The AV conduction system has a dual blood supply, the AV branch of the RCA and the septal perforating branch from the LAD. Therefore, complete heart block can occur in patients with either anterior or inferior infarction. Complete heart block develops in 5 to 15% of all patients with AMI; the incidence may be even higher in patients with RV infarction. As with other forms of AV block, the prognosis depends on the anatomical location of the block in the conduction system and the size of the infarction."
"Complete heart block in inferior infarction usually results from an intranodal or supranodal lesion and develops gradually, often progressing from first degree or type I second degree block. The escape rhythm is usually stable without asystole and often junctional, with a rate exceeding 40 beats/min and a narrow QRS complex in 70% of cases and a slower rate and wide QRS in the others […] The mortality may approach 15% unless RV infarction is present, in which case the mortality associated with complete AV block may be more than doubled."
"[P]atients with inferior MI and AV block have larger infarcts and more depressed right ventricular and left ventricular function than do inferior infarcts with no AV block. As already noted, junctional escape rhythms with narrow QRS complexes occur commonly in this setting…"
"Only when complete heart block develops in less than 6 hours after the onset of symptoms is atropine likely to abolish the AV block or cause acceleration of the escape rhythm. In such cases the AV block is likely to be transient and related to increases in vagal tone rather than the more persistent block seen later in the course of MI, which generally requires cardiac pacing."